Lake Elsinore Pet Memorials
This area of our website is devoted to our companions who have passed on, but left us with wonderful memories of the time we spent with them. If you would like to have a special pet added to this page of memorials, please click on the email address below and send us a few words, along with a photograph.
Sampson Liberty
7/26/2000-10/12/2016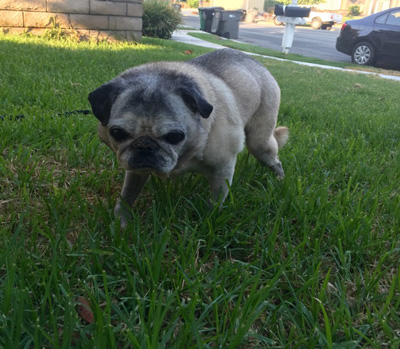 The morning of October 12, 2016 I held in you in my arms, knowing you were ready to take your final journey.
I cannot tell you, my dear Sampson, how many times I thought I heard you...from your footsteps or the jingle sound from your tags around your neck. Many times I looked, expecting to see you prancing from around the corner to the family room or kitchen with excitement. Although you could no longer climb the stairs, you always waited at the bottom of the stairs for my return.
Unfortunately, the last 3-4 months of your life, your walking got a little slower and you were sleeping more. Cataracts and Doggy Alzheimer's had also begun to take its toll on your precious little body. You were no longer Sampson the curious...nosey and right in the middle of stuff.
You were so entertaining. Your singing, barking and dancing while eating and how you would flatten your body & scoot around the floor like a dust mop always made my day. Sadly, all that stopped. Four days before your passing, as you were no longer able to feed yourself, I began feeding you and giving you water through a syringe, selfishly trying and believing I could keep you with me. Even when your sad eyes, staring at me while holding you, I knew you were ready to cross over to Doggy Heaven. Having you for 16 years and 3 months was not long enough but I am glad to have had you in my life and that you chose to cross over in the comfort of your home.
Rest my dear Sampson. You are loved and will forever be in my heart. Smooches!!
Your Mom
Honey Amidon ~ memorial left on May 09, 2018
Cassie ~ memorial left on November 08, 2016
Zoe Doll ~ memorial left on October 13, 2016
Lily ~ memorial left on September 28, 2016
Zoe Lane - 03/09/99 - 03/31/14 ~ memorial left on June 09, 2016
Starr Lane ~ memorial left on May 27, 2016
Harley ~ memorial left on May 21, 2015
Emily ~ memorial left on May 06, 2015
William ~ memorial left on April 28, 2015
Jackson ~ memorial left on April 23, 2015
Belvedere ~ memorial left on March 24, 2015
Xander ~ memorial left on February 02, 2015
Mika ~ memorial left on December 11, 2014
In Loving Memory of our Love-Chan ~ memorial left on September 18, 2014
Gracie ~ memorial left on August 06, 2014
Diamond ~ memorial left on August 05, 2014
Mi Werita ~ memorial left on July 25, 2014
Alex Sunshine ~ memorial left on May 22, 2014
Jessica Lynn 1996-2013 ~ memorial left on May 22, 2014
Dexter ~ memorial left on February 13, 2014
Buddy ~ memorial left on January 27, 2014
Bea, 1998-2014 ~ memorial left on January 27, 2014
Boris, 2003-2014 ~ memorial left on January 13, 2014
Bella, 1998 - 2013 ~ memorial left on November 04, 2013
Daisy 2007 - 2013 ~ memorial left on August 08, 2013
Penfold Greer ~ memorial left on June 07, 2013
Baby Girl ~ memorial left on May 22, 2013
My Beloved Chuck ~ memorial left on April 19, 2013
Freedom ~ memorial left on March 26, 2013
Ruger ~ memorial left on January 30, 2013
Roxy ~ memorial left on January 30, 2013
Sheila 'She She' Cozzens, 2004-2013 ~ memorial left on January 23, 2013
Sharlot, 2001 - 2012 ~ memorial left on January 11, 2013
In Loving Memory of my Angel Skeeter 1992-2013 ~ memorial left on January 11, 2013
In Loving Memory of my Beautiful Angel ~ memorial left on January 11, 2013
Lilo ~ memorial left on January 07, 2013
Momo ~ memorial left on January 02, 2013
Hope ~ memorial left on December 04, 2012
Piper ~ memorial left on December 04, 2012
Gus ~ memorial left on December 04, 2012
Dutch ~ memorial left on November 15, 2012
Nano Juarez ~ memorial left on October 09, 2012
Walter ~ memorial left on September 19, 2012
Ginger ~ memorial left on August 27, 2012
Our Beautiful Houdini Love ~ memorial left on August 16, 2012
Our Precious Cochita ~ memorial left on August 16, 2012
Rocky ~ memorial left on August 13, 2012
In remembrance of our Cookie ~ memorial left on August 09, 2012
Tie 2004-2012 ~ memorial left on August 06, 2012
In Loving Memory of Kona Girl ~ memorial left on July 23, 2012
Bailey ~ memorial left on June 25, 2012
Meowth ~ memorial left on May 30, 2012
Our Little Toby ~ memorial left on May 30, 2012
Xena Bosley ~ memorial left on May 24, 2012
In Loving Memory of Our Dearest Mixie (2001-2012) ~ memorial left on May 18, 2012
Sandy (1995-2012) ~ memorial left on May 18, 2012
KitKat ~ memorial left on April 23, 2012
Orson Wells ~ memorial left on April 23, 2012
Tilly ~ memorial left on February 29, 2012
Calvin ~ memorial left on October 12, 2011
Dyson - Found 4/15/05, Lost 7/2/11 ~ memorial left on August 31, 2011
Bart ~ memorial left on August 31, 2011
In Loving Memory Of Max ~ memorial left on July 28, 2011
Dusty Hannah Woodmansee ~ memorial left on July 25, 2011
Sesame ~ memorial left on March 08, 2011
Andy ~ memorial left on March 04, 2011
Georgia 2001 - 2011 ~ memorial left on January 28, 2011
Simon ~ memorial left on December 28, 2010
Archie ~ memorial left on December 28, 2010
Cy ~ memorial left on December 02, 2010
Bindy Girl ~ memorial left on October 14, 2010
Gabby Bosley ~ memorial left on September 22, 2010
Layna Heidi sund 1993 - 2010 ~ memorial left on September 13, 2010
Hobbs ~ memorial left on September 07, 2010
Rocky ~ memorial left on August 26, 2010
Wilbur July 2010 ~ memorial left on July 16, 2010
In Loving Memory of Shanti ~ memorial left on July 06, 2010
Maddie 1996-2010 ~ memorial left on May 10, 2010
Henry Cox - We Miss You! ~ memorial left on April 30, 2010
In Loving Memory of Callie ~ memorial left on March 15, 2010
Little Miss Mollie By Gollie ~ memorial left on March 15, 2010
Stoney Buds, 11/21/09 ~ memorial left on December 10, 2009
Callie Blue Jeans, a.k.a. Callie Kitty ~ memorial left on September 14, 2009
Locutus of Borg ~ memorial left on June 24, 2009
Bear Grapperhaus ~ memorial left on March 30, 2009
Gina Hull ~ memorial left on March 30, 2009
Baby Nico Fenton, 1991-2009 ~ memorial left on March 30, 2009
Chevalier Du Desert, a.k.a., Bunker ~ memorial left on January 26, 2009
Jemima Burke, 1993-2009 ~ memorial left on January 20, 2009
Jasmine, May 25, 1994 - Nov. 19, 2008 ~ memorial left on January 16, 2009
Sheba Avendano ~ memorial left on January 16, 2009
CeBonne The Great ~ memorial left on January 14, 2009
Holmes Lopez, 1999-2008 ~ memorial left on November 24, 2008
Rutgers - Man's best friend, 1994-2008 ~ memorial left on November 12, 2008
Applejack's Extraordinary Career ~ memorial left on September 16, 2008
Belle Callahan, Nov. 30, 2001 - Aug. 8, 2008 ~ memorial left on August 26, 2008
Sam ~ memorial left on July 30, 2008
The Allen Family American Eskimos ~ memorial left on March 21, 2008
Mewsette, Princess of Bunny ~ memorial left on February 04, 2008
Misty Blue ~ memorial left on September 20, 2007
Rusty ~ memorial left on August 21, 2007
Abby White ~ memorial left on July 02, 2007
Roxy Corona Carter ~ memorial left on April 05, 2007
Luna Santo ~ memorial left on April 04, 2007