April 30, 2010
Henry 1993 ~ 2010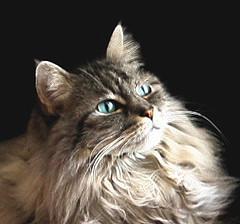 Henry came to us on St. Patrick's Day 1993. We got word that the city animal shelter finally had a kitten available for adoption and we were very excited. This would be our first pet together. We had picked out the name Henry prior to adoption. It just so happened the kitten at the shelter was a female. Even though it's a boys name, we can't imagine having named her anything else.
She was 8 weeks old when we got her and she was extremely tiny and fluffy! Adorable described her perfectly. She purred so loudly for such a tiny thing! Her big emerald green eyes were absolutely gorgeous. She captured our hearts instantly.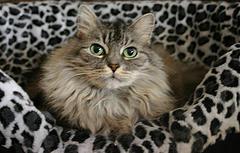 One day shortly after we adopted Henry, she was sleeping on the windowsill that faced the front of the house. She was tiny enough to curl up on the sill in the sun and nap. The UPS man came and left a package at the door and started back to his truck but stopped abruptly. He'd seen Henry on the windowsill but didn't know anyone was watching. He went to the window and tapped and started cooing and making kissy lips at her. She was adorable enough to make a big UPS man slow down for a minute and become smitten.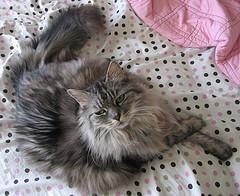 As Henry aged, she never lost her inner kitten. Even at 17, she still jumped into boxes and chased toys. She had a curious and high-spirited disposition. Anyone who knew Henry will tell you she was a very sweet cat, always affectionate and loving.
She was an adored companion.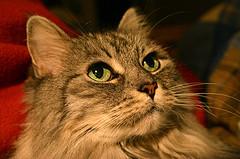 We miss Henry very much and are so very thankful this beautiful creature brightened our days for 17 years. She will never be forgotten - it would be impossible. We love you, Henry.
We hope we see her again someday. Until then, we're sure she's enjoying sunny days and as many bacon treats as she wants!