September 20, 2007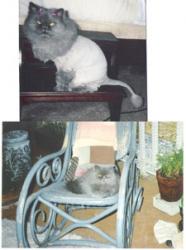 She reached her paw out to put it lovingly in my hand. The first time in 14 years. Our love for each other was beyond a service animal or companion.
I have lost track years ago of how many times she saved my life and now it was my turn. This is perhaps the most difficult task to commit to paper, not yet grieving the loss of my closest family member, Misty Blue, tiny little angel. When I cried, she came running, cheek to cheek, full of love, compassion and by some divine intervention, understanding. I am able to only write one thought at a time now.
It was some time before I could open the box containing her ashes. When I did, her paw print was there and brought me back to her loving actions. I was unprepared and its touch allowed some deep, great connection and love so unexpected to surface. As I held this paw print cast in clay, a slight tingle emanated into my hand. Quite miraculous—then again, she was most miraculous. A gift from Hospice 14 years ago—you see, I was only given a short time to live. I know Misty Blue's love, devotion and responsibility kept me alive in some degree all these years. Pastors, doctors, caregivers, friends—all were in awe of her. Few nights passed without her coming to pray, unsolicited by me, paws crossed, head over the tattered "Word That Does Not Lie," in thanksgiving for all the many blessings we received. Some would say ID theft, my entire estate embezzled, being disowned and disinherited, precious treasures of heart stolen, vermin infestation, homelessness and paraplegic would or could never be counted as a blessing. Yet we had each other and always a morsel of food and needed shelter. What greater blessing could we ever need?
Thank you for the remembrance of her paw in my hand. Again, in my grief stricken state, she sends a blessing to me. In loving respect for Misty Blue, I give these words to you.
Margot Nielsen