July 16, 2010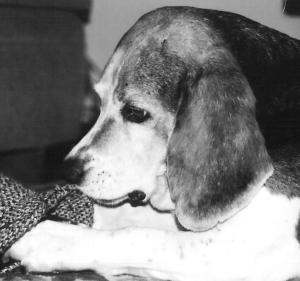 Wilbur was a survivor. He was found along side an old country road in Suffolk County, VA. where he served as a hound for a local hunt club. After being struck down by a vehicle, Wilbur was surrounded by a group of club members who made the decision to shoot him, as he would no longer serve their purpose. Fortunately, a good Samaritan intervened and carried Wilbur away to get help. As a result of his injuries, Wilbur lost his right eye and broke his right-front leg. After receiving medical attention he was transferred from Suffolk County SPCA to a rescue organization, K-9 New Life, located in Virginia Beach, VA.
Wilbur's adoption was finalized on March 27, 2004 and he relocated to the state of California later that year. It only took a few months for him to learn how to walk, and then to run, without limping. His personality blossomed as he became convinced that his new family loved him and was here to stay. He eventually learned how to play and took delight in pouncing around with Zha Zha, his Pomeranian pal. He loved car rides, trips to Burger King ("Just the patty, please!"), long walks on Mrs. Waterman's property in El Centro, early morning hours spent at McVicker Park, neck rubs from daddy, and having mommy all to himself. He disliked pedicures, baths, taking medicine, and mommy leaving for work.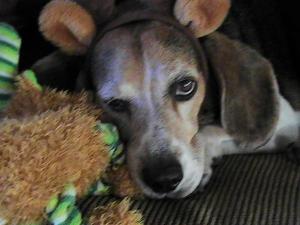 Wilbur was diagnosed with lymphoma in August of 2008. He was treated by the oncology staff at CVS in Murrieta, CA. and was declared in remission at the beginning of 2009. During the month of July, 2010 Wilbur convinced his family that it was time to say goodbye. After a long and hard decision, he was laid to rest July 11, 2010 on a Sunday morning. He is survived by his father, mother, and sister.
Our Dearest Wilbur,
You were a gentle and loving spirit. Our sweet, beautiful boy! Your absence has left a pain of the acutest kind and I take solace in believing that we will meet again.Your existence has taught me to hope for humanity, despite all of its flaws and ignorance.You were my most loyal companion and I love and miss you so much. You stand as a testament to the undeniable truth that broken trust can be mended and that love is the world's most valuable treasure. Thank you for giving me and our family a chance to know and love you. Thank you for your patience and for your love in return. Your story will be told over and over again and you will never be forgotten.
Love,
Mommy, Daddy, and Jo-Jo Pumpkin