September 07, 2010
My husband travels on a regular basis and we were looking for a companion and protector for myself while he was gone. We wanted to rescue an older dog so we could "save their life". But as it turns out, he saved ours. We had been looking for a Labrador and had been hitting dead ends because we are renters and our property manager was out of town. We live on 5 acres and although we knew we had the okay for a dog, no one would even work with us until they had something in writing. After weeks and weeks of frustration, we stopped by a Rancho Coastal Humane Society in San Diego to look and see what we could find. That is when Hobbs was brought into our lives. He was a 4 1/2 year old Weimaraner. He had been surrendered to the pound twice and the staff was looking for a forever home for him. After spending 2 hours with Hobbs, we knew he was our dog. Moe, one of the employees, saw the bond we had with him and went out of her way to make it possible to hold him until our property manager was back from vacation.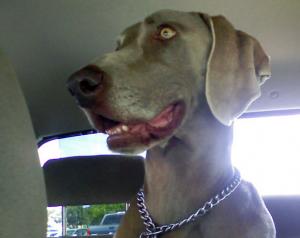 Hobbs was great with people, but not so great with other dogs and basically any small animal. I believe this may have been why so many have given up on him. We took the time to work with him and after about a year, he was able to be happy around a couple dogs.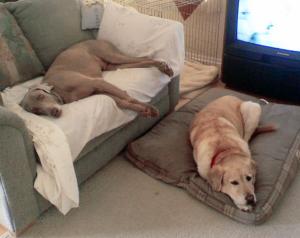 Hobbs had a lot of health issues including separation anxiety. He was so bad he would make himself sick every time my husband traveled. I was not about to give up on him because until he came into our life, he had such a bad life including possibly being abused. Bryan and I loved Hobbs and gave him 5 years of unconditional love and attention.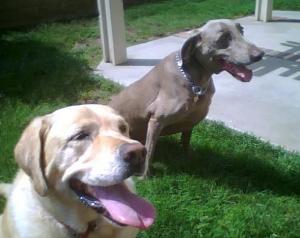 On Saturday, August 28, 2010. Hobbs, our 10 year old Weimaraner, was bitten by a rattlesnake in our backyard. Bryan was out running errands, I was able to get him to an emergency vet in less then 25 minutes after the bite. Bryan met us at the vet not long after. They took Hobbs back and began pain treatment, the vet reported he was swelling up, but not as bad as other snake bites she has treated. We signed the estimate and they went to work on him, we were advised of the risks, and we asked them to save our dog. They said we could probably pick him up the next morning around 8am, pending the anti-venom treatment went as planned. We went home to await a phone call on his condition, we received the phone call around 8pm advising he had an allergic reaction to the anti-venom and went into anaphylactic shock, his major organs also failed during this reaction. We lost Hobbs at 8:15 pm Saturday night...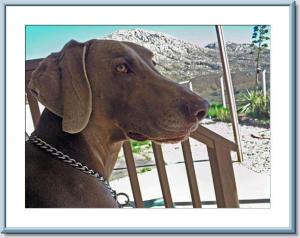 He was our hunting partner, our best friend , and protector . We are both still in shock and dealing with heavy hearts. We know now that Hobbs will not be in pain and will not be sick anymore. We also know that Hobbs left this world knowing that he had a forever family who didn't give up on him and loved him unconditionally. He was given to us for a reason, he taught us more about love and hopefully when the time is right, we can open our home to another rescue who needs a forever family.