October 12, 2011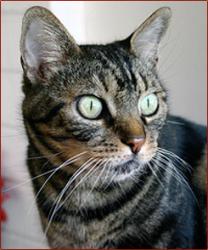 1995 to 2011
One morning in 1995, a delightfully curious kitten meowed at our screen door. He was a stray who had been
wondering around the neighborhood for about a week. A few people had given him food but no one had taken
him in. That's the day Calvin became part of our family. We really had no idea what was in store for us.
Sometimes it seemed like Calvin was the Winnie-the-Pooh character, Tigger, come real life. Tigger always
said "bouncing is what Tiggers do best" and that was no understatement for Calvin. He did a lot of bouncing!
He was always carefree and full of boundless energy. Calvin was the kind of cat that would climb the Christmas
tree or attempt daredevil leaps from high vantage points. Each day held new promise of adventure for him.
Even at 16 years old, he loved to play just like a kitten.
Calvin was very social - always wanted to be where the action was and right in the middle of things. He'd
often steal the show with his silly antics. He was affectionate as much as he was playful which made him
easily loved and adored by family and friends. He left his paw print on many hearts.
Calvin was always up for fun, but like all cats, he also loved to nap. His favorite spot was on Greg's lap.
He purred so loud and was so very happy when he was with Greg. He loved his "daddy". Without a doubt, Calvin
loved Greg unlike anything else. And Greg loved him just as much. They went together like peas and carrots.
We celebrate Calvin's life by keeping him alive in our memory and in our hearts. His happy-go-lucky spirit
remains with us and makes us smile at the thought of him. He filled our lives with love, affection and, at
times, hilarity. This beloved animal will never be forgotten. We love and miss him so much.