June 25, 2012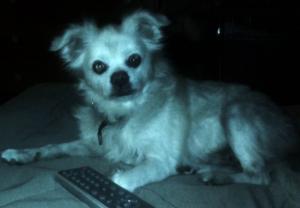 I remember clearly the day we brought you home in July of 1995, 17 long years ago. You were so tiny that you could fit in the palm of my hand. We met your mom and dad, a black-and-white long-haired chihuahua and a fawn pug; so, of course, you were a pughuahua. And you were as white as snow and so incredibly cute. You sat in my lap on the way home in the car with Adam (6) and Alex (2) in the backseat. You were one of Adam's 6th birthday presents. We decided to call you Bailey.
Such a funny boy, you made us laugh every day with something silly that you would do. And such a sweet boy. You were like a stuffed animal that had come to life. You were always happiest sitting in someone's lap, and it didn't matter whose lap it was. You loved everyone. You always kept me company while I was working at home alone and everyone else was gone at work or at school, you slept right next to my head every night, and you loved pork more than anything on Earth.
You used to love to run and run and run, but you weren't able to run anymore in the end. Gradually over the last couple years your sight began to fade until you could no longer see at all, but you adapted like a champ and figured out how to navigate your way around. You were the vet's oldest patient, and he could not get over how wonderful you were. You were the best companion to Lucy and Loki. They will miss you very much just as your people will.
But as time went on, you just became more and more tired. Your little body had just done all it could for you, and old age finally took its toll. You still looked like a puppy at 17 years old. Everyone still thought you were a puppy. but you weren't a puppy anymore. You were old and you were exhausted. And after years of never asking for anything, there was only one thing that you wanted....just to go home where you could see again and run and play and eat pork whenever you wanted to.
As much as I wanted you to stay with me forever physically, I know that you'll always be with me. You were the sweetest baby we could have have ever hoped for, and we will miss you every day. Thank you, my sweet Bailey, for hanging in there for so much longer than most dogs do. I promise I will be as tough getting through this as you were for me until you knew I was finally ready to let you go.
Love always...
Amy xoxoxoxo