August 13, 2012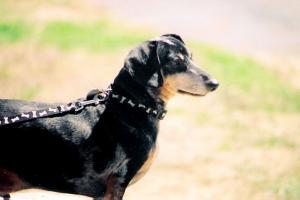 Rocky,
We all miss you so very much!! What a journey it's been for us all. We got you in 1996 when the girls were little and you all grew up together! When one of them was sick you would lay in their room. I'd go past to check on them and you'd look at me as if to say, "It's ok mom..I'm here!" You brought us such joy Rocky. What fun it was to watch you run through the sprinklers. You would attack them until you were so cold you were shivering. The fun you had!!
As time passed you all grew up...and you were still our loyal companion. You looked lonely...so we got you a friend Roxie. The two of you played and kept one another company. Roxie couldn't understand your fascination with the sprinklers!!
As time passed you began to walk slower. In the last few months you were no longer able to do the things you enjoyed. You slept more and more and weren't able to run through the sprinklers anymore. I knew it was getting time to say goodbye to you. We dreaded the day when it arrived. I know that you are waiting for us there in heaven. You are feeling no pain and runinng and I'm even willing to bet running through the sprinklers!!! We miss you Rocky...thanks for all the wonderful years!!!