September 18, 2014
Born: June 8, 1999; Atsugi, Japan
Adopted: October 2001 Yamato, Japan
Passed over to Rainbow Bridge August 27, 2014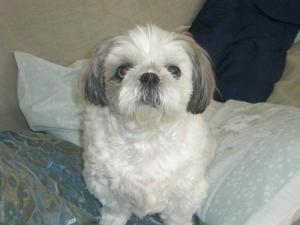 From the very first day you came to our lives more than 13 years ago you filled us with love and joy. Our life was forever changed because of you little girl.
You taught us lessons on unconditional love. Your loyalty was so comforting. Our home is not the same because you're no longer there. Remembering you is easy, we do it every day, but missing you is heartache that never goes away. Though you left us with a treasure chest of wonderful memories, there is a huge void in our hearts that we will treasure the time we had with you, our sweet Japanese Shih-Tzu, Love chan.
Our hearts is empty and broken that we can't hold you again. We hope you are smiling and happy in doggy heaven, cause you deserve to spread your sweet spirit to other dogs that have gone before you. You will always be remembered and celebrated. Say hello to your brothers Chachi and Toby, to your cousins Teddy Boy and Teddy Girl.
Wait at the Rainbow Bridge for us. You will be in our hearts forever.
Mom, Dad, Ate Jazmin, Kiko, Jack, Sasha, Taco and Tootsie