November 12, 2008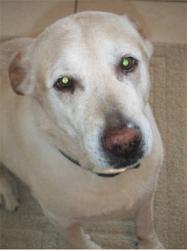 Rutgers was a loyal human friend trapped inside a dog's body. These moments were witnessed throughout his fruitful life with us. We rescued Rutgers from a shelter in San Diego in March of 2001. They had picked him up on the streets, dog fighting, shortly after the devastating fires that year in the Escondido area. There was an immediate connection between my wife Jodi and Rutgers. We were not sure if he could actually bark for two weeks. He appeared to be eternally grateful to have found such a wonderful home to live the rest of his life. Since he is mostly Lab, we assumed that he would love a jaunt to the beach to play in the water and enjoy the company of playful dogs. We quickly found out that he had a higher sense of duty, which later earned him the nickname of Sergeant. Rutgers never left our side at the beach and only wanted to sit next to us, even as other playful dogs tried to engage him.
Our next adventure was to the park for a good old game of fetch. He would have nothing to do with those dog games. At first, we thought he was never taught, but he proved us wrong a year later when he quickly retrieved two balls faster than our newly acquired Black Lab, Remo - just to shut us up.
Rutgers would continuously throughout the day patrol the house, ensuring he knew the whereabouts of each family member at all times. His concern was with our safety at all times.
He was a dominant alpha-dog that never bowed down to another dog. This was evident the day he earned his stripes and nickname at a doggy park in West Palm Beach. A smaller dog was getting roughed up by a group of 8 dogs and he jumped in the middle, barked twice and the fight ended. He was truly a gentle giant that is irreplaceable and will be missed forever!