June 09, 2016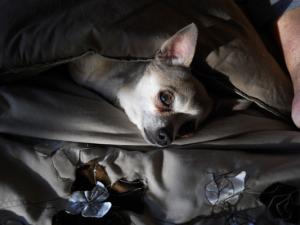 Zoe Lane - 03/09/99 - 03/31/14
ALWAYS a good girl...
You were funny and made us laugh.
You were smart, and very clever. Always the opportunist, never missing a chance to snatch a treat!
You were so beautiful, loving and patient with your sister, Starr.
Daddy's "meat and potatoes" girl, and mama's "little Joe Boxer."
You were truly a warrior, Zoe, right up to the end.
How lucky we were to have you for two more years beyond all the doctors' expectations.
We love you, baby girl, and will miss you every day until we all meet again on The Rainbow Bridge...
Mom and Dad