January 03, 2019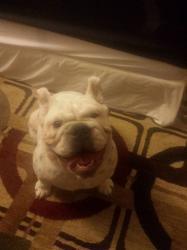 Lily,
I still remember the day I picked you up. It was Jan 31, 2015.
I didn't know what to expect as I was driving up to Lake Elsinore to pick you up. The moment I arrived, I fell in love with you. The way your little legs ran out of the garage to greet me. The way you bounced around making your big ears flap to show me how playful you are. I felt one word: Love.
I fell in love with you, Lily. I knew you were going to be my baby girl then and you are always going to be my baby girl.
You were instantly family the minute I brought you home. You challenged all of us (dad, mom, and sister Ava) in every positive way to make us better parents for you. No matter what obstacles came forth, you still gave us unconditional love. I bonded with you from the beginning, Lily.
I still can hear your grunts and your out of breath laughs after we are running around the house. I can still see you gallop so excitedly when you realize you are at the beach. I can still see you run so fierce across the grass fields. You were life. My life. I am so sorry your life had to end on Dec 22, 2018. You just turned 4 years old. I still don't understand why you had to leave Mommy so soon. I am so broken hearted you left me so soon and I am sorry if Mommy didn't do more than you needed. But I promise I will see you again. I miss you with all my heart. I miss you laying next to me in bed. I miss your cuddles and miss your whines. I wish you were still with us, Lily. I love you with all my heart. Forever.
In Loving Memory Of:


Lily Cullen Born: 1-31-15 Passed: 12-22-2018